Payment method
For security and efficient service please be sure to provide your exact billing address and telephone number that your credit card company has on file for you - this will ensure no delays in processing your order. We also do prefer delivery to PayPal verified addresses.
PayPal
Pay for your item in just a few clicks with PayPal, a leader in secure online payments. No PayPal account required. If you have one already, check out quickly for no need to enter your debit or credit card details.
We do also accept bank transfers, cash on collection and cash on delivery payments.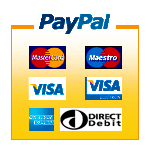 PayPal, Faster Safer Easier